Visitors flock to Put-in-Bay for sunny summer days on the boat, beach, and in the bars. Take a trip to Del Sol and purchase something that really embraces the sun! Every item sold at this unique shop changes color in the sun. Pretty cool right?
What Makes Del Sol So Special?
Located at the intersection of Delaware and Toledo Avenues, Del Sol is the leader in color change technology. Favorite items include sunglasses, apparel, and even nail polish. Outfit yourself in Del Sol gear and really embrace those solar rays.
Besides their innovative color changing, their items are fresh and insanely wearable. The shirts include tropical graphics in bright colors that get even more intense when they change in the sun. The nail polish is really fun. Coat your nails with a glittery silver and watch it transform to a brilliant purple. They carry a whole range of colors.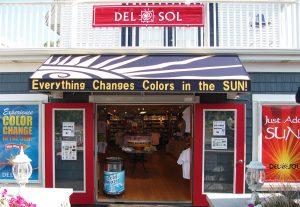 Perhaps best known for their sunglasses, the various flames are all decidedly contemporary. Pick your favorite color combination. The chunky frames can change from clear to pink, silver to blue, the combinations are endless! The aviator frames are really eye-catching, with the metallics transforming from silver to gold, gold to rose gold, you name it.
Other items include bags, headbands, and even jewelry!
During the summer season, Del Sol regularly runs a promotion for a free bag. With locations all over the world, the Put-in-Bay Del Sol features a special local design.
Summertime on Put-in-Bay
After wearing your new Del Sol gear on the boat, it is time to refuel in downtown Put-in-Bay. Chow down on freshly caught perch and walleye at one of the many restaurants lining the streets from The Keys to The Boardwalk. Live music is always filling the air. Head to Frosty Pizza or The Round House and take in the sights with a cold beer in hand.
Testimonials
Martin M: "The girl at the door was amazing. Very sweet. The other staff were great as well. Overall very nice."
Jay G: "Love their stuff. Nothing else like it. And such friendly staff. Kids wanted to touch and try everything under the black light and they took it all in stride"
Dotty G: "Neat store. Lots of girls and women's items & a couple of things for men. $26 T-shirts, but they they are pretty unique and worth it."