Peace and Quiet
The name says it all, Peace and Quiet is your own little oasis on Put-in-Bay. CHECK AVAILABILITY! Two units sit side by side on a lovely wooden area. Located less than a mile from the downtown, Peace and Quiet is perfect for those looking for a peaceful spot close to the action. Peace and Quiet fills up quickly, so make a reservation now to secure your preferred dates today!
Peace and Quiet Setting & Amenities
Each unit sleeps up to eight guests. There is a full kitchen, dining area, and air conditioning. A sleeper sofa is available and each bedroom has a full bed. Linens and towels are provided.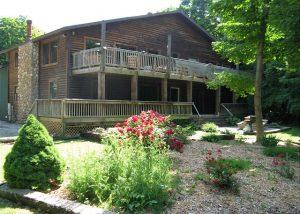 The backyard is spacious and a delight to spend time in. A propane grill is provided for guests to grill up freshly caught fish from Lake Erie. There is enough room to set up yard games like cornhole and spend the day playing and hanging out in your own slice of Put-in-Bay.
The lodge sits tucked away from the road down a winding road. When you feel like relaxing, Peace and Quiet makes it easy and enjoyable. The owners also live on-site to help you with any needs that may arise and offer tips for the island only locals know.
Put-in-Bay
Whether you are traveling with friends or family, there is always something fun to do on Put-in-Bay. Attractions located close to the Peace and Quiet include activities for kids and adults alike.
Perry's Cave is right down Mitchell Road on Catawba. The main attraction here is the limestone cave with an underground lake. There is also mini golf, a Butterfly House, rock wall, and a giant maze! A little further afield is Saunders Golf Course and the nearby Joe's Bar, a great place to relax with a beer in their comfy outdoor patio.
There is a public launch dock at South Bass Island State Park plus a variety of other fun outdoor activities throughout the island.
Downtown Put-in-Bay is where the action is. The streets are lined with delicious restaurants, fun bars with live music, and plenty of shopping.
Testimonials
Shanna M: "BEST RENTAL at the greatest place on earth! This place is PERFECT for a get-away on the island! Hands down the nicest place I have stayed at on the island. The house is tucked back in the woods and is very clean. All the accommodations you could ask for, and more. This has been and will always be my first pick when I know I am going to Put-in-Bay. You will not be disappointed!!!"
Bob D: "Clean, comfortable and exactly like the name suggests, very peaceful and quiet! Last weekend I made my second trip to Put-in-Bay with some college friends. Last year I partied up for the first time with my good friends bachelor party and wanted to come back for more. This rental was great! We will be back!"
Charles R: "Our second stay at this cute secluded rental home and we had as much fun as the first time, maybe even more! The night time fire pit was awesome and private. The owners said hi the one time we ran into them and seemed really nice. Lots of parking. VERY clean, surprisingly so actually for being out in the woods! The owners have kids so have a couple cameras up to watch them outside, but we were never bothered. Bonus: there was a kitchen area so we could make breakfast and save a few bucks from the downtown. We are already planning our third trip here!"
Jessica W: "This was the best get away my husband and I have had in a very long time! You really do get peace and quiet and such a friendly atmosphere. I felt so welcome! The room is equipped with everything you need and then some, it was very clean and well taken care of as well. We will definitely be back again and look forward to our time here! I would recommend them to anyone!"
Beware of Scam
Owner took our $250 deposit after we used his pan and stove to cook eggs for breakfast. Apparently we needed to deep his appliances after our stay. $250 for a 5 min clean up job feels like and is a scam