The Jet Express Ferry provides water transport for passengers heading to South Bass Island and Kelley's Island Ohio from their mainland port locations.  Onboard, passengers can expect a comfortable, smooth ride while taking in the views of several Lake Erie Islands.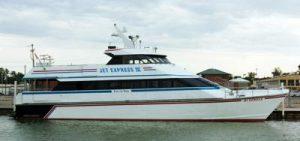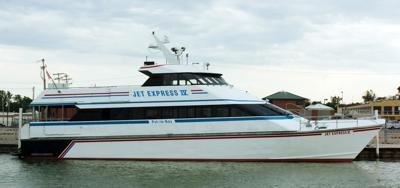 Jet Express Mainland Docks
Jet Express Put-In-Bay FerryPort Clinton, Ohio

Located on the shores of Lake Erie, this tourist town welcomes thousands of guests each season.

Sandusky, Ohio

Home to one of the best theme parks in the World, Cedar Point.  Port is located in the downtown area near several great bars and restaurants.
Getting There is Just Part of the Fun!
Passengers aboard the Jet Express are afforded great seating options for their experience.  First, guests can choose to find a seat in the comfortably appointed interior cabin.  Here, padded seats and tables fill the area, providing ample seating space.  Otherwise, passengers can sit atop the boat on an open air deck.
Regardless, the destination is the same: Put-In-Bay!  The Jet Express whisks guests to the island in comfort and style.  Take the Jet for an exceptional experience: It's Worth It!
Navigating From Jet Express Dock on Put in Bay
After making the trek across Lake Erie, passengers are dropped off directly downtown. From here, the majority of the best Put-In-Bay Bars and Things to Do can be reached.  Also, for guests needing a Put-In-Bay Taxi, they are waiting at the dock.  Simply look for an Island Club or Put-In-Bay Condo Taxi.
Another popular option is a golf cart.  Golf cart rental services are located in close proximity to the Jet Express dock.  This mode of transport opens up many options.  Guests can choose to see a side of South Bass Island they may have not seen before.  Lastly, for many guests, simply walking across DeRivera Park is enough.  Here, so much activities and events keeps the island times rolling.
Set Your Clock to Island Time with Jet Express
A trip to the Lake Erie Islands and Put-In-Bay is best done with the Jet Express.  The comfortable conditions on board, the sights along the way and impeccable safety record make them an excellent choice.
The real question is why not stay?  We have an impressive selection of Put-In-Bay Lodging options for all size groups.  Please take the time and review our great properties.  Everyone needs some time away, so Book Yours Today!
Testimonials
Nancy: "It was a perfect place for our family to stay. The home was clean. We rented a golf cart which was the best way to get around on the island. On Sunday we went swimming at the pool. Over all everyone had enough space and felt comfortable. Thanks!"
Joseph: "Host was accessible if any questions existed. House was as we anticipated and was good for our larger group. This was a very good location and we enjoyed our stay."
Justin: "Everything was exactly as described and suited our needs for our stay. We had 10 guests and the house accommodated us well. The arrival process was simple and smooth. Would definitely stay again!"